From Principal's Desk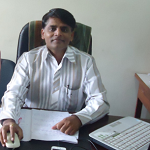 We personally believe that Thinking, Implementing and Sustaining these three words are easy to speak but difficult to follow. We have one-way education system in practice. In this present system, users speak, student hear the words and express their crammed words mechanically in exam that is education which is not enough and until students start to raise the questions, They can't understand subjects thoroughly that we believe.
WELCOME TO


TMT-BCA COLLEGE

With a view to making women or girls-students self-reliant and imparting them useful productive higher education, Vidyamandir Society was set up in 1948. This Institute faced a lot of troubles with courage. The sincere and dedicated founder members and the teaching staff laboured hard to achieve the goals step by step and today it has secured the highest position in the field of Women Education in the South Gujarat Region. The chief motto of this Institute is to arouse the need and awareness for the higher education among women and train them as well disciplined and self-dependent in various fields of life. An exclusive college for women was started with a few students in a private building in the beginning but today this women college having its grand building on the bank of the river Tapi in Athwa lines area of Surat city.